TJ Elevator Fan is a 14 year old who loves everything about elevators. He also loves hotels, and with the help of his mom and dad, has filmed over 1700 videos. While not all of his videos feature elevators or hotels, they are the central theme in the majority of them.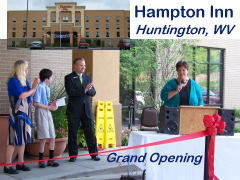 TJ was invited to participate in the Grand Opening Celebration at the new Hampton Inn in Huntington, WV.

Click here to watch the opening celebration

During the summer of 2012, TJ had the opportunity to participate in the "Hamptonality" video series by Hampton Hotels with his feature titled "Elevated Hamptonality", to reflect his love for riding and filming elevators. Most of the filming for "Elevated Hamptonality" was done on location in Asheville, NC at the Hampton Inn Tunnel Road, with the rest of the material taken from TJ's archives.
Be sure to visit Hampton's Facebook page at: www.facebook.com/hampton

Hilton Garden Inn Raleigh, NC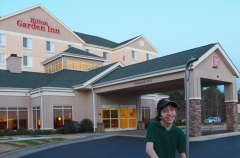 We really enjoyed our stay at the Hilton Garden Inn in Raleigh. We got a deluxe suite, which was very comfortable with a separate bedroom and sitting area.

Click here to see more of the Hilton Garden Inn Raleigh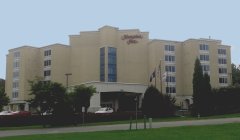 Be sure to stay at the Hampton Inn Salem,VA when you're in the area. A great hotel with a great staff made my visit really memorable. Special thanks to the staff for the balloons in my room, as well as the tickets to Mill Mountain Zoo and the Transportation Museum.

Click here for more of the Salem Hampton Inn
Biltmore Hotel, Greensboro, NC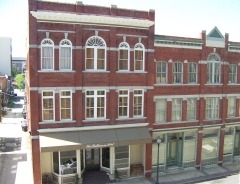 We stopped by the Biltmore Hotel when BC Elevators came down for a visit. It's a very nice historic hotel, with a vintage gated Warner elevator.

Click here for more of the Biltmore Hotel